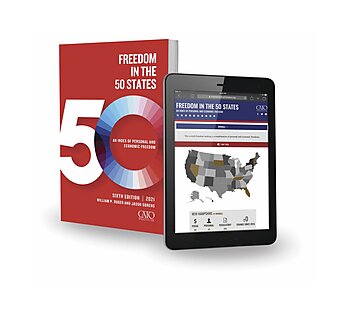 Special Release Event
Freedom in the 50 States
About
The Sphere Education Initiatives is pleased to host a special launch event for the latest edition of Freedom in the 50 States! Join us on Tuesday, December 7, from 7:30 PM to 8:30 PM EST for this launch event, which includes a conversation with the authors and an opportunity to ask questions about what this report reveals about freedom in your state.
This event will be presented via Zoom.
All Sphere alumni and interested educators for grades 5–12 are eligible to attend.
Earn professional development for attending.
Freedom in the 50 States ranks the American states according to how their public policies affect individual freedoms in the economic, social, and personal spheres. Updating, expanding, and improving upon the five previous editions of Freedom in the 50 States, the 2021 edition examines state and local government intervention across a wide range of policy categories–from tax burdens to court systems, from eminent domain laws to occupational licensing, and from homeschooling regulation to drug and vaping policy. The authors have also included a new section that analyzes how state COVID-19 responses have affected freedom since the pandemic began. By discussing significant policy changes and trends, readers will walk away with a strong sense of the state of freedom in the states today.

About the Authors
Jason Sorens is the director of the Center for Ethics in Business and Governance at Saint Anselm College. He has researched and written more than 20 peer‐​reviewed journal articles, a book for McGill‐​Queens University Press titled Secessionism. His research has focused on fiscal federalism, U.S. state politics, and movements for regional autonomy and independence around the world. He has taught at Yale, Dartmouth, and the University at Buffalo and twice won awards for best teaching in his department.
William Ruger is a research fellow in foreign policy studies at the Cato Institute. He is also vice president for research and policy at the Charles Koch Institute and a vice president for foreign policy at Stand Together. He was previously an associate professor in the Department of Political Science at Texas State University and an adjunct assistant professor at the LBJ School of Public Affairs at the University of Texas‐​Austin.
Program
-
SPECIAL RELEASE EVENT:
Freedom in the 50 States
A conversation with Will Ruger and Jason Sorens
Moderated by Allan Carey