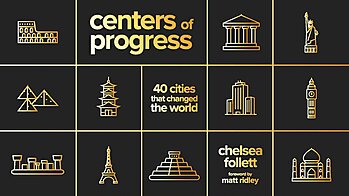 Book Release Event
Centers of Progress
Date and Time
Location
Live Online via Zoom
About
Join Sphere Education Initiatives for an exclusive book release event for Centers of Progress: 40 Cities That Changed the World on Wednesday, October 11th at 7:30 pm eastern. Hear from the author, Chelsea Follett, about these extraordinary cities, the impact they have had on advancing human progress, and learn about the key conditions that allowed for their success. Following the presentation will be an overview of classroom resources developed by Sphere alumnus, Sean Kinnard, for use in your classroom.
In Centers of Progress: 40 Cities that Changed the World, Chelsea Follett examines a diverse group of cities, ranging from ancient Athens to Song‐​era Hangzhou. But some common themes stand out: most cities reach their creative peak during periods of peace; most centers of progress also thrive during times of social, intellectual, and economic freedom, as well as openness to intercultural exchange and trade; and centers of progress tend to be highly populated. Because, in every city, it is ultimately the people who live there who drive progress forward―if given the freedom to do so.
This event will be presented via Zoom.
All Sphere alumni and interested educators for grades 5–12 are eligible to attend.
Earn professional development for attending.
Program
-
Chelsea Follett, Policy Analyst and Managing Editor for Human​Progress​.org
-
Sphere Classroom Resources
Sean Kinnard, AP World History Teacher, Yorktown High School